Is Your Brain Frazzled?
Are You Ready To Get Off The Course Creation Hamster Wheel?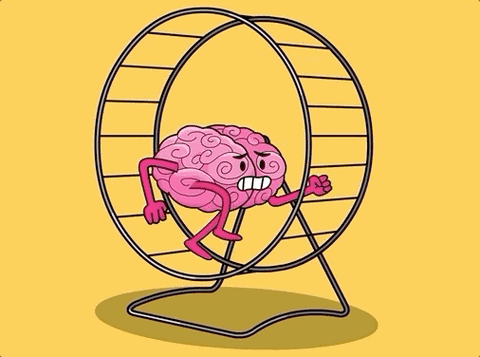 You are in the online space and thinking about creating a course but have a bazillion questions…
Let me guess...
You currently find yourself...
Looking at other online creators and wondering how they were able to learn their skills

Wondering if what you're doing is enough to get you where you want to go

Wanting to create online courses, but don't know where to start

Seeing so much information floating around about creating "sold out courses" but don't know which one to trust?

Knowing you're meant to do something impactful, but don't know which route to take
All you want to do for your clients is to provide an amazing online course experience that will support your clients in reaching their goals… whatever that may be for them.


You want to make an impact on the lives of others.

You want to reach more people and increase your revenue so you can give back and help others.

And you know an online course is the way to go for you.


But here's the thing…

According to recent studies, 97% of people who buy courses do NOT complete them. When I first heard this statistic, I wasn't surprised. As a lifelong learning professional who helps entrepreneurs like you create online courses, I have seen what happens when courses miss the mark…

Very few people complete the course.


Which means less of your audience gets the value that you have to offer and, more importantly, the value they deserve.

I have created, built and audited hundreds of courses over the years and I can see why 97% of people who buy courses don't finish them.

Here's why…


There is too much information to digest so people give up before they even start
The content is boring and does not hold your client's attention
There's little value - it's basically a repeat of information you can easily find on the internet
The course is unstructured creating a confusing experience that does not align with expectations of a paid product
It's lonely and lacks community - there's no-one to reach out to for support
Lack of recognition - there is zero motivation to continue or complete the course

As an entrepreneur for 20 years, I understand the desire to gather 'all the things' and review them 'later' at your convenience. You want to learn more and be the best you can be and acquire all the knowledge you can - trust me I get it.
NEWSFLASH!!


It's time. You didn't find me by accident.

I know what it takes to build a course that is INFORMATIVE, ENGAGING and TRANSFORMATIONAL.

A course that delivers IMPACT.

You want to make your mark. You want to be known as an expert in what you do and you want to provide quality in your offer so that your clients stay with you and buy from you again in the future.

But you have a few challenges...

You feel like:


You're not a course expert
You are not good at the 'tech'
You're not sure where to start
Your time is limited
You are overwhelmed and 'stuck'


And, worst of all… who do you trust to support your course vision to become a reality?

If any of this had you nodding your head, thinking "yes, that's me"—then read on, because I'm so excited to share this game-changing opportunity with you.

I'm going to relieve the pressure for you, right now!

I have worked with countless Fortune 500 companies and entrepreneurs just like you, providing strategic direction and creating courses that get results. I have a playbook around what works and what doesn't.

So if you've ever felt "stuck" — or even "incapable" — it's not your fault.
INTRODUCING:
Your 6-Week Course Creation Experience
~ the secret sauce to creating courses with IMPACT ~

An online group experience where we will align, define and design your course content so that it delivers the impact you promised, without all the overwhelm and unnecessary stress.

See What Jackie Has To Say About Her Experience

"I love your teaching style and I am finding the content so incredibly valuable and constructive! This course has given me so much clarity and I'm shifting my original plan to create something more concise and simplified that I know my students will use and love. Thank you!"

~ Jackie Unterreiner, Orlando FL Real Estate Agent
What's included?
When you join The Course Creation Experience, you get:
The System
Discover my 3-Step System where we align, define and design your content so that it increases completion rates and delivers the impact it promises!
LIVE Classes
Weekly LIVE teaching sessions on Zoom with me so you can get your questions answered live. (Yes! It's really me!)
The Formula
Learn my 4x4 No-Fail Formula so you can make sure your students are engaged and only learn what they need to know
- no 'information overload' here!
Implementation Support
Opportunity to implement what you have learned in the program so you can get live feedback directly from me!
The Workbook
Downloadable workbook and worksheets so you can follow along in a way that works for you!
Special Bonuses
Online Community and 1:1 time with me... keep reading!
Just Imagine the Difference:
Move from Doubtful to Confident!
No more wondering "if" your course is actually going to provide impact
Gain the confidence you need to showcase what you have to offer
You have a course that matches the values and standards for which you are known
Be part of a community that GETS what you're doing, and is ready to cheer you on
Gain a skill that is only going to keep CLIMBING in demand
You could spend months or years trying to figure out how to create a course that delivers impact OR you can click the link below to get the professional help you want and need that saves you time and MAKES you money!
Hear What My Clients Are Saying
#seasoned professional | #a godsend | #flawless process | #gets results | #inspirational | #first choice
"I hired Debi to help me with my online course called
Fitnancial Foundations
for new entrepreneurs.
Debi gave me a new found confidence in my course where I am so much happier with it, and I'll be able to sell it more confidently and then turn out more revenue."


FOUNDER & CEO
FITNANCIAL SOLUTIONS
"Debi designed a 5-day program for my business. Initially I felt
reluctant to hand over the reins
but I could not have been
more pleased with the results
. She took my material and focus and created a course that was
far superior to anything I would've created.
It was
"my voice"
even though it had elements that
I wouldn't have thought to include
. It
flowed so much better
and as a result, the program had
much higher engagement than my previous programs
.

Debi is a dream to work with: fast, efficient, professional and incredibly knowledgeable. I wholeheartedly recommend her expert course creation. Her process is flawless."

DR. LAURA FOSTER
"A couple of months ago I felt very lost. I had a course, but it was running on a platform that I wasn't very happy with. So I was looking for somebody that was knowledgeable, that could help me find the best platform for my courses. And I found Debi, she was just a godsend!

I cannot say enough great things about Debi. The way she works, she was always very prompt, very on time, always with great ideas. I am already thinking about using her for my next upcoming course."


BONUSES!!!

Bonus 1! Community Access to other students where you can chat, ask questions and celebrate wins together inside The Course Creation Company portal.

Bonus 2! Private 30-minute 1:1 Coaching Call with me after completion so I can help guide you on a path that is best suited for you.


Frequently Asked Questions
Will there be replays available if I cannot make the LIVE sessions?
Absolutely! The recordings will be uploaded to the school portal within 24 hours after the session.
Is this experience refundable?
Due to the nature and duration of this online experience, refunds are not available.
Easy as one, two, three
Pick Your Preference
The Course Creation Experience
The Course Creation Experience
Waste weeks and months trying to figure out a strategy that works OR get help from a professional course expert that delivers on their promise every time?

Keep sitting around, hoping that something falls into your lap OR do something about it and make the change?

Be making YOUR dreams a reality OR be in the same exact spot next year wishing that you started sooner?

You claimed that 2022 was going to be your year, so let's go and make sure that it is!

It's time to create a course that you feel REALLY GOOD about.

One that is completely aligned with YOU!
Debi Smallwood
Debi Smallwood is a Certified Instructional Designer, Master Course Creator and Consultant aka The 4-Hour Course Creator.
JOIN THE WAITLIST
Be the first to know about our next
6-Week Course Creation Experience!
Enrollment Closed
for this round of The Course Creation Experience.
Join waitlist for future details.
Created with